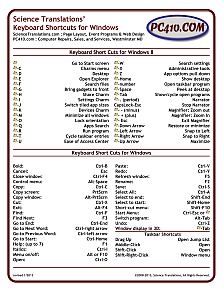 Windows 10 includes many of the old-school keyboard shortcuts from earlier versions. Additionally, there are new shortcuts in Windows 10. These new Windows 10 shortcuts include "snapping", improved since it began in Windows 7, that allows you to "snap" or dock each window to one side of the screen or another. In Windows 10 you may now snap, using keyboard shortcuts, into quadrants of the screen instead of just left/right. Try it out by holding down the Windows logo key while tapping any of the direction arrows; whichever window or program is on top (or has "focus," to use the programming term) will move to the edge of the screen, top or bottom or either side.
If you take the time to memorize nothing else, remember Cut (Ctrl-x), Copy (Ctrl-c), and paste (Ctrl-V). These shortcuts aren't just for Windows. They work in nearly all programs that work with text or selecting words, files, or images. And Control-Z is UNDO, remember that one–it takes back the last thing you did. It's the Oops key.
Windows 10 also features Cortana, your personal assistant living right inside your operating system. You can control Cortana features using keyboard shortcuts or by speaking into a microphone.
New! Here's the Windows 11 keyboard chart.
If you are interested in our other free downloads for other operating systems you can find them at Free Windows 7 Keyboard Shortcuts Chart and Free Windows 8 Keyboard Shortcuts