PC410.com
A Division of Science Translations
Managed IT Services, PC Service and Sales in Central Maryland
Home
»
Managed IT Services and Computer Repairs
Managed IT Services and Computer Repairs
Are you ready to install Windows 10?
It will be a free upgrade. Do you want help installing it?
Science Translations can install the upgrade for you, plus a full image backup before and after the upgrade. The backups require an external or portable drive; we have those in-stock if you don't already have one. Flat bench rate: $60, including installing any missing Windows patches. Or if the system needs a malware cleanup as well, $120 total, including cleanup and speedup. Drop off is either in Westminster or Baltimore.
Some systems that are eligible for the upgrade aren't showing the reservation' logo. Science Translations can upgrade those as well. Upgrades to solid-state drives are also available.
---
Computer Repairs, PC Service, and PC Sales in Carroll County, Maryland
Established 1990.
PC410 provides on-site or remote, PC hardware and software integration, installation, and repairs in Carroll County, Maryland and near-by areas, including Baltimore. Custom hardware configurations are available.
Call Now: +1 (410) 871-2877
Our Specialties:
We'll be the IT department for your business, or the backup for your in-house IT department.
Computer repairs, including hardware, software, and malware.
Malware cleanup, including adware, ransomware, spyware, worms, and old-fashioned viruses.
Data backup, including disaster planning.
Data recovery, in-house, or when needed, at a clean-room technology partner.
Network configuration, monitoring, and upkeep.
PC Sales, including finding exactly the options you want, or custom computers, built to do what you need, in any environment.
Web Design & Hosting
The world is going mobile, does your site look good on your phone?
This site is mobile-enabled; it adjusts columns and font sizes to keep everything readable on any device–that's called responsive design.
We can convert your existing website to mobile, or build a new site that works on phones, tablets, and monitors.
Web hosting services are fully managed. We'll maintain security and backups for your site, and make changes as-needed, all included. Rates vary with the complexity of the site; call for a price quote; most business sites start at $30/month.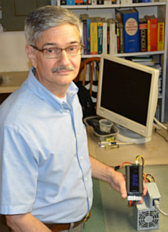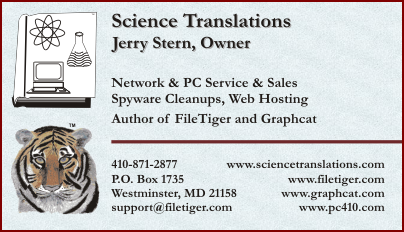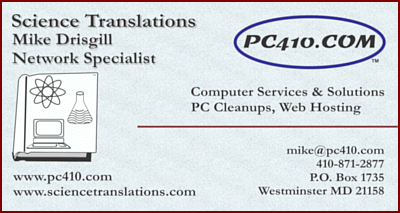 We make house calls, and sometimes, Google takes pictures:
The Google StreetView truck drove by, photographing Rolling Road, just as we were finishing a house call.