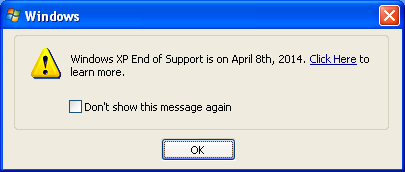 On Patch Tuesday of this month, Microsoft sent the last batch of patches to Windows XP users. What does this mean?
First, the positive items:
XP Activation, needed for re-installing Windows XP, still works. I've done it since April 8th, and it is not a problem.
Existing patches still download, if they are from AFTER Service Pack 3 for Windows XP.
Service Pack 3 is still available for Windows XP.
Microsoft's very basic antivirus, 'Security Essentials', will continue to function, with warnings, on Windows XP with Service Pack 3, but is no longer available to download on XP.
Many antivirus companies have announced that they will continue to provide protection for Windows XP.
Alternate browsers are available for Windows XP, including versions of Mozilla FireFox and Google Chrome.
Next, the negatives:
The security community suspects that new exploits for XP have been found and will be launched as malware, and will unimpeded by patches. (This is partially false; it is a major concern for user running Windows XP systems online, without current security software.)
Windows XP can't run Internet Explorer versions past 8. Version 8 has is also no longer supported or updated. The current version of Internet Explorer is 11. Some web sites won't load properly, and this will increase as site developers stop testing on IE 8. (Mitigating factor: Chrome and Firefox are available for Windows XP, and are much newer than than IE 8's 2009 design.)
Printer manufacturers are mostly providing generic drivers for Windows XP now, with incomplete feature sets. These drivers work on many printer models, and will work, mostly. The driver situation will get worse as time goes on.
Predictions: What I learned when this happened last time, for Windows 2000 Professional, will happen again:
All antivirus support for Windows XP will dry up, probably in 3 years.
All hardware driver support for Windows XP will go away, probably this year for new products, with old product drivers remaining online but un-updated for a few years.
Corporate software, industry-specific enterprise software, and many other big-database products, will end support for Windows XP within 2 years.
Major programs will eventually be unable to import data from versions of their products that run in Windows XP. Quicken, for example, can only import from their 2011 product to their 2014 edition.
So, what to do with Windows XP systems?
Plan to take all Windows XP systems out of service or offline within 3 years, preferably 2.
If the systems date from the era of Windows Vista, when Windows XP was the preferred way to say NO to Windows Vista, then the computer may be dual-core, and powerful enough to run Windows 7 or 8.1. If it's a notebook with a touchscreen, upgrade to Windows 8.1. (It's a full wipe, not a true upgrade; contact any local computer shop–we can transfer your data to new Windows or to new hardware.)
If it's a desktop PC with a dual-core processor, it can run Windows 7. Windows 7 is still available to system builders, but have a local tech look inside the system for a proper hardware inspection before spending money on a reinstall/upgrade.
Example: I have a Windows XP notebook running in my office, connected to a old but expensive document scanner that has no drivers for Windows 7. It's offline, and dedicated for batch scanning. It can run forever, or as long as the hardware lasts.
The end of XP support doesn't mean that desktop Windows is going away. Windows 7 is still available on new computers from any local computer shop. But start planning now to retire all those computers; they've given you over 12 years of use–Windows XP is technology that launched back on October 25, 2001. It's time to say a slow goodbye.