Windows 7 computers are still available, here in Maryland, from Science Translations, right here at PC410.com. And if you're not nearby, any local repair shop can still buy completely legal and authorized Windows 7 licenses for new computers, and upgrades for Windows Vista computers, if they're running at least dual-core processors or faster, and Windows 7 is always substantially faster than Windows Vista on the same hardware.
And it's time, too. Windows XP support for 'extended security patches' ended April 8th, 2014. Here's the scary pop-up message from Microsoft: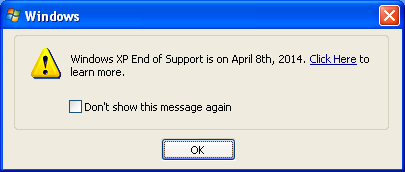 Windows 8.0 Support ENDS on October 26th, 2014
Windows 8 shipped on October 26th, 2012, a date known at Microsoft as 'General Availability.' According to the Microsoft Support Lifecycle FAQ, "Customers have 24 months to move to Windows 8.1 after General Availability in order to remain supported. See the Windows 8.1 FAQ for more information." OK, here's the link to the "Windows 8.1 Support Lifecycle Policy FAQ"–check item 2: "Why are you requiring Windows 8 customers move to Windows 8.1 two years after the General Availability?"
http://support.microsoft.com/gp/lifecycle-Windows81-faq
My short version of the 'why': Because Windows 8 is a support nightmare with a clumsy interface, and Microsoft doesn't want anything to do with it. (That's my opinion, not one stated publicly by Microsoft.) Unfortunately, the free upgrade from Windows 8.0 to 8.1 has a few issues of its own, and none of these issues have applied to previous Windows service packs:
The 8.0 to 8.1 upgrade for Windows is only available in the Windows Store.
Windows Update does not offer to install the Windows 8.1 upgrade.
The upgrade downloads 1 Gigabyte of code before asking permission to install, not after.
The upgrade requires a 'Microsoft Account' to install, and doesn't announce that fact before the download.
The upgrade has a high failure rate if there is other software running, or a BIOS upgrade needed, or an incompatible driver. That's around a 40% failure rate on the first attempt from my own small sample, and it doesn't identify why it failed.
Repeat attempts require a repeat download.
There is no offline version of the upgrade for network administrators and system technicians.

Overall, if you're running Windows 8.something and there is no white Windows logo in the desktop taskbar, that's Windows 8.0. Try to get the Windows 8.1 upgrade through the Windows Store, but FIRST, run Windows Update, and install all required updates. The Windows 8.1 update won't show up in the store for you unless it decides that your computer is ready to install it, with all of the earlier patches already in-place. If it fails, most local repair technicians can identify the issue and install it for you. But do it before October 2014, or the security patches will end, when Windows 8 joins Windows XP as an officially-unsupported version of Windows.